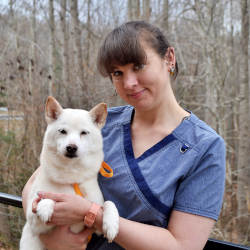 10% Off Pet Grooming
Through April 30
Meet our new groomer, Brittney Everhart! To celebrate her arrival at Eagle's Nest, we are offering 10% off all pet grooms thru April 30. Call and schedule a grooming appointment today!
540-775-6800
Heartworm Awareness Month
April is Heartworm Awareness Month! Did you know our heartworm tests also test for Lyme disease? To spread awareness, we are offering the following discounts thru the end of the April:
Discounted Heartworm/Lyme Tests
$5 Off Lyme Vaccines
Unsure if your pet needs a heartworm test or vaccine? Call our front desk, and we will check their record to see when they're due!
Discounts
Dental Discount
ENAH offers a 10% discount on dental services when a dental cleaning is scheduled within 30 days of being recommended by the veterinarian.
Rescue Discount
If you have adopted a pet from a certified rescue organization, please bring us the adoption papers and we will perform it's first wellness exam at no cost.
Promotions
Flea & Tick and Heartworm Prevention for Your Pet
Prevention of external and internal parasites (fleas, ticks, mites, heartworms, and intestinal worms) is important to the health and well-being of your pet and your family. We will work with our suppliers and vendors to offer competitive pricing and special rebate programs on these selected products:
Frontline Gold – Rebates Available
Frontline Gold is a topical treatment that offers one month of protection again fleas and ticks. With the current rebates, pet owners who buy 3 doses will receive 1 free or buy 6 doses and receive 2 free.
Sentinel Spectrum – Rebates Available
Sentinel Spectrum chewable tablets provide one month of protection against heartworms and intestinal parasites including tapeworms. Rebates are available for purchases of 6 and 12 doses.
Simparica – Rebates Available
Simparica is a once-a-month chewable tablet that protects against fleas & ticks for 35 days. Currently they offer rewards for purchases of 3, 6, 9, and 12 doses.
Seresto Collar – Rebates Available
Seresto provides 8 months of flea & tick prevention with the use of a convenient, non-greasy collar. Currently a $15 rebate is available with the purchase of each collar.
Feline Revolution Plus – Rebates Available
Revolution Plus provides prevention for cats and kittens against fleas, ticks, ear mites, roundworms, hookworms, and heartworms with a simple-to-apply, quick-drying, small-volume, monthly topical solution.