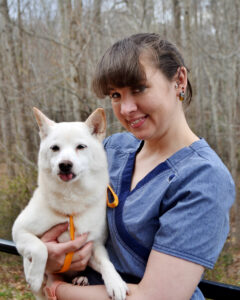 Eagle's Nest offers professional grooming services for all breeds of dogs and cats. Proper grooming eliminates painful tangles, matting, and excessive shedding, which greatly enhances your pet's overall health and quality of life. Our groomer is equipped to deliver individualized, compassionate, and professional care for your pets' grooming needs!
Meet our new groomer, Brittney! Here she is pictured with her sweet pup Athena.
Grooming Discount
Receive 10% off your next grooming appointment when you book within 4-5 weeks of your current grooming visit! This booking must take place on the day of the current groom for the discount to apply.
Schedule a groom today! 540-775-6800