Dr. Judge and her associates, Dr. Hodorowicz and Dr. Dutton, would like to alert clients of the recent FDA findings regarding grain-free and boutique diets. Please read the following information directly quoted from the article published June 27, 2019, titled "FDA Investigation into Potential Link between Certain Diets and Canine Dilated Cardiomyopathy."
"In July 2018, the FDA announced that it had begun investigating reports of canine dilated cardiomyopathy (DCM) in dogs eating certain pet foods, many labeled as "grain-free," which contained a high proportion of peas, lentils, other legume seeds (pulses), and/or potatoes in various forms (whole, flour, protein, etc.) as main ingredients (listed within the first 10 ingredients in the ingredient list, before vitamins and minerals). Many of these case reports included breeds of dogs not previously known to have a genetic predisposition to the disease. The FDA's Center for Veterinary Medicine (CVM) and the Veterinary Laboratory Investigation and Response Network (Vet-LIRN), a collaboration of government and veterinary diagnostic laboratories, continue to investigate this potential association. Based on the data collected and analyzed thus far, the agency believes that the potential association between diet and DCM in dogs is a complex scientific issue that may involve multiple factors.
"We understand the concern that many pet owners have about these reports: the illnesses can be severe, even fatal, and many cases report eating "grain-free" labeled pet food. The FDA is using a range of science-based investigative tools as it strives to learn more about this emergence of DCM and its potential link to certain diets or ingredients."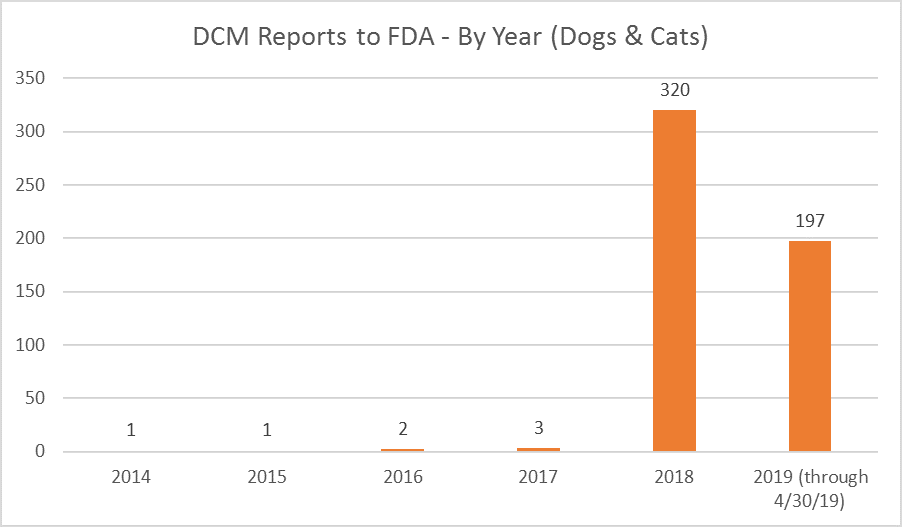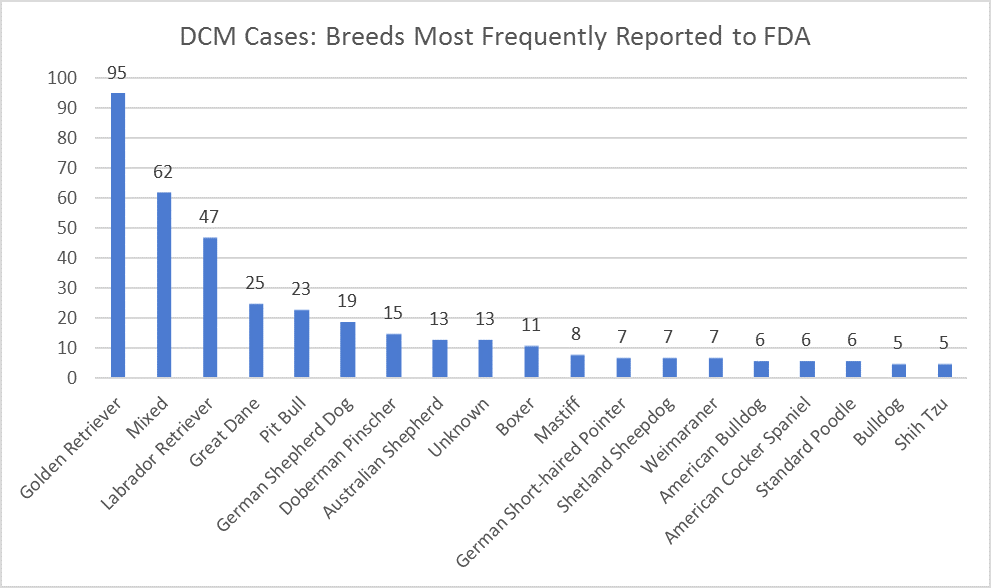 The report goes on to preface the following graph:
"When examining the most commonly reported pet food brands named in DCM reports submitted to the FDA, it is important to note that the graph below is based on reports that included brand information and that some reports named multiple brands. Brands that were named ten or more times are featured below. For a granular, case-by-case breakdown of DCM reports submitted to the FDA, see Canine Dilated Cardiomyopathy Complaints Submitted to FDA-CVM Through April 30, 2019. FDA urges pet owners to work with their veterinarians, who may consult a board-certified veterinary nutritionist, to obtain the most appropriate dietary advice for their pet's specific needs prior to making diet changes."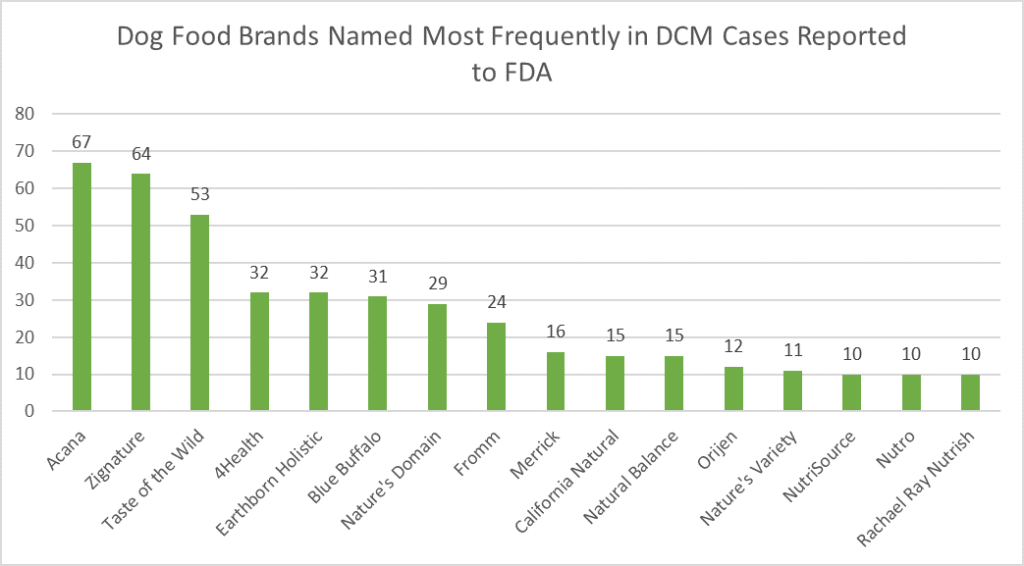 To clarify – diets which are considered "grain-free" do NOT contain corn, soy, wheat, rice, barley, or other grains. The following graph highlights the ingredients contained in the grain-free and boutique diets named most frequently in DCM cases reported to the FDA: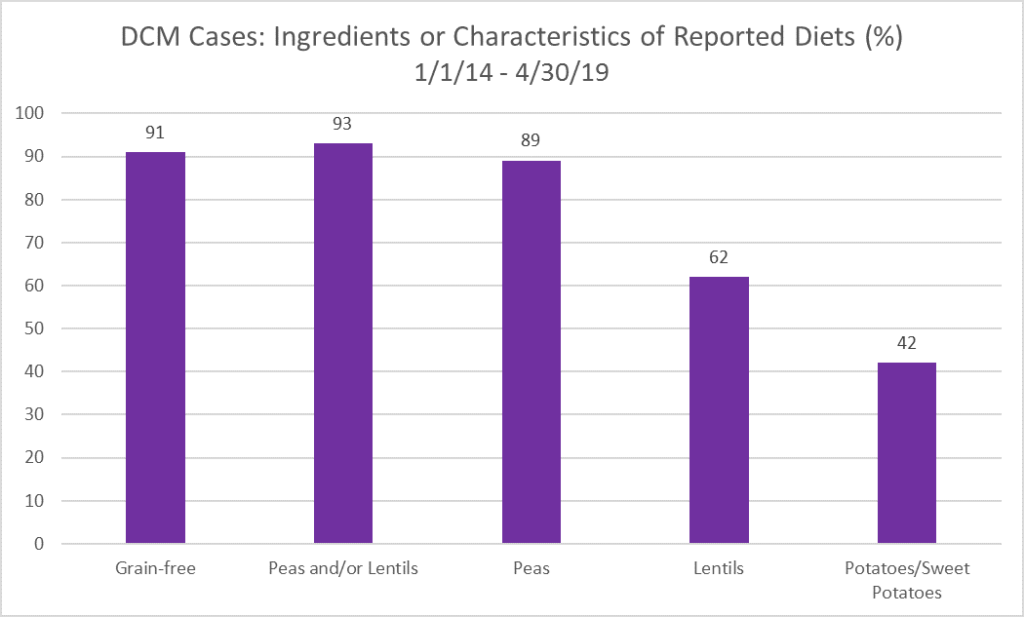 Clients are encouraged to read the entire article published by the FDA CVM here:
FDA Investigation into Potential Link between Certain Diets and Canine Dilated Cardiomyopathy
If you have any questions or concerns regarding your pet's diet, please feel free to call our office at (540)775-6800, or ask one of our doctors at your pet's next visit. We certainly do not mean to strike fear in or alarm any pet owner whose pet may be eating one of the aforementioned diets; we simply feel that it is our responsibility as veterinary medical professionals to inform clients of the risks associated with these diets.
Sources: