Help us help pets in need by making a tax deductible donation to our Veterinary Care Charitable Fund!
We have partnered with the American Veterinary Medical Foundation to provide a way for our clients to donate to animal care in our community. Many dogs and cats in King George have been rescued by the King George Animal Control or the King George Area Rescue League (KGARL), and we are thrilled to support these organizations and will continue to provide their animals with the care they need.
Occasionally, however, a privately-owned patient will incur high medical costs that the owner cannot afford. Your donation to Eagle's Nest's VCCF will allow us to provide treatment for these pets in need.
Those helped by your donation include but are not limited to:
Animal victims of abuse or neglect
Injured or abandoned animals found by Good Samaritans
Elderly clients needing assistance for pet care
Disabled veterans in need of care for their service dog
Pet owners experiencing medical challenges or financial hardships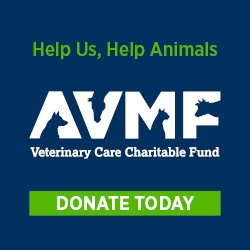 Eligibility for charitable aid will be determined by our three doctors and approved by the VCCF.
We truly appreciate any and all donations. Every bit can help a pet in need. If you have any questions, please email us at eaglesnestah@gmail.com.